my Travel Cash special offers
We regularly have special offers, promotions and competitions for our new and existing cardholders.
Don't miss out
All offers are posted on our website, plus if you're an existing cardholder you can sign up to receive our latest offers by email.
To sign up simply log into your account , visit the 'Account Settings' section and tick 'Offers and Promotions'.
Sign up now to make sure you never miss out on one of our fantastic special offers.
EXCLUSIVE PRIZE
Your chance to go to The BRIT Awards with MasterCard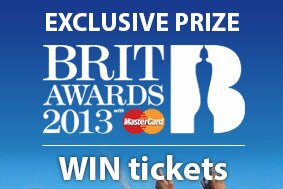 my Travel Cash is giving you the chance to win tickets to The BRIT Awards 2013 with MasterCard!
One lucky my Travel Cash cardholder, plus a friend, will be attending the awards and heading to the official MasterCard after party.
Plus 2 runners up will receive a pair of balcony tickets to the awards.